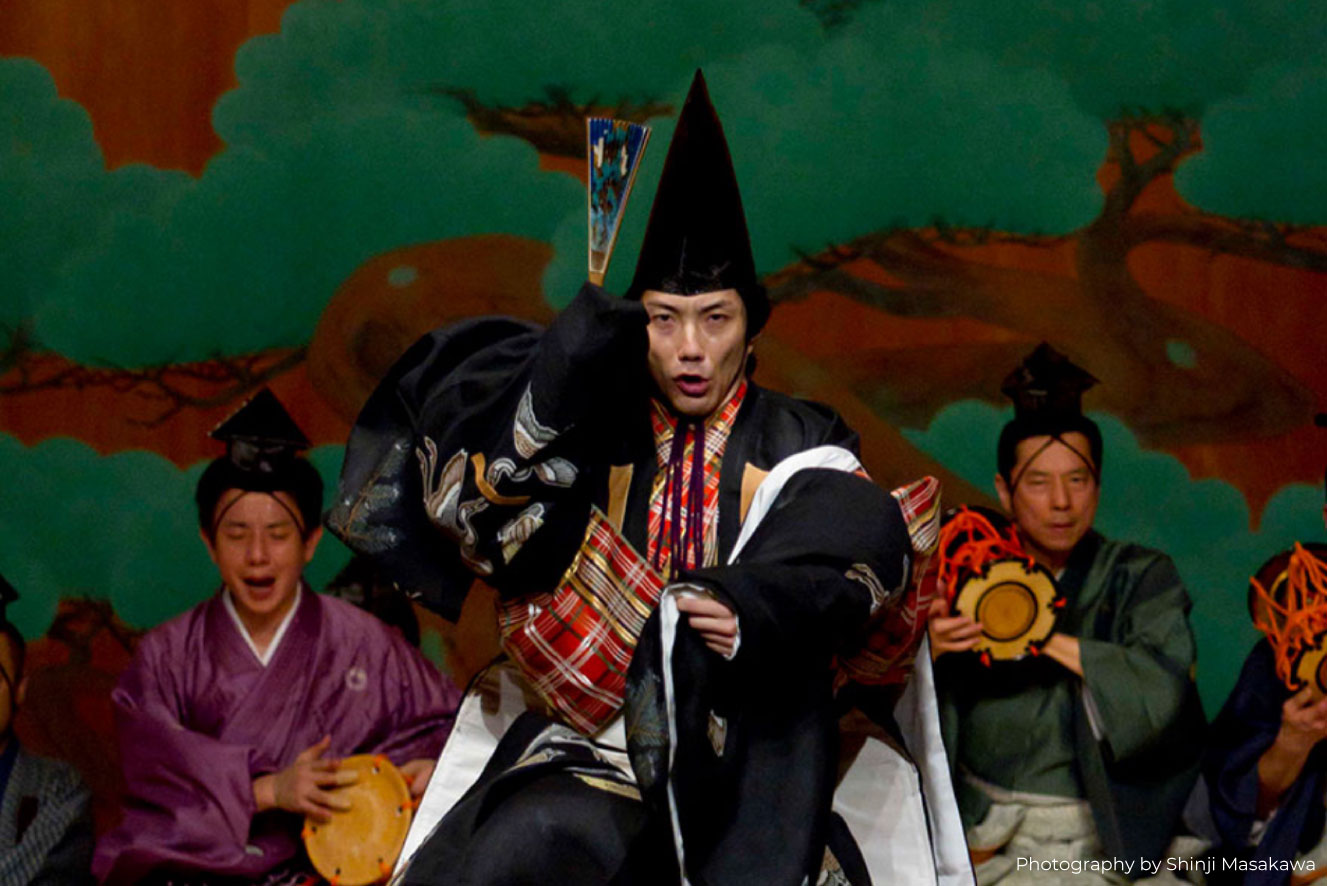 Japan Cultural Expo: "The Island of the Gods" International Art and Culture Project, Munakata Eco Festival 2020
Designated a UNESCO World Heritage Site under the rubric "Sacred Island of Okinoshima and Associated Sites in the Munakata Region," the historic sites of Munakata are proof of the vibrant cultural exchange that existed between Japan and the rest of East Asia in ancient times. These sites include the island of Okinoshima, which was worshiped as the abode of the divine and where the diversity of nature was respected and allowed to flourish. Together, maritime exchange and respect for nature greatly influenced the development of Japanese culture. The Japan Cultural Expo's "The Island of the Gods" International Art and Culture Project, which builds on the spiritual foundations that emerged as part of this process, seeks to highlight the philosophy and aesthetics of Japan through a variety of cultural and artistic programs aimed at an international audience.
Since ancient times, the people of Japan have felt awe for the power of nature, developed a lifestyle founded on respect for its principles, and expressed gratitude for the blessings of the forests, mountains, rivers, and sea. Part of this worldview is the idea of tokowaka, or "everlasting youth." Tokowaka refers to the never-ending circle of life, through which nature regenerates itself in order to maintain its essential form, and provides clues as to how humanity should seek to coexist with its surroundings to maintain life.
The Munakata Eco Festival 2020 is collaborating with the Munakata Global Environmental Symposium, which seeks to put the idea of tokowaka into practice and relay its ideals to the world, to offer a forum for discussion around the ideal state of our planet and its inhabitants. Simultaneously, the festival seeks to build bridges that connect environmental concerns with art and culture, with the aim of establishing a sphere of circular coexistence centered on art and culture through a focus on the Japanese view of nature, Japanese philosophy, and Japanese forms of expression.
The Japan Cultural Expo is a comprehensive celebration of Japanese arts and culture, from the earthenware and clay figurines of the prehistoric Jomon period and Buddhist sculpture to visual art in the form of ukiyo-e woodblock prints, crafts such as urushi lacquerware, kimono and dyeing, performing arts such as noh and kabuki, and anime and manga. All of these, as well as Japanese life itself, is permeated by respect for and awe of nature, along with a particular understanding of beauty and divinity in it. The expo focuses on the products of this philosophy through a kaleidoscope of artistic and cultural forms, seeking to encourage interaction between people, bring about memorable experiences, respect the diversity inherent in our world, share what is universally valuable, and strive for peace.
Online Event – Performing Art
Outline

This program features music, traditional performing arts, visual art, and more, mixing performances with documentary footage. It offers viewers a journey into Japanese landscapes, beauty, tradition, and craftsmanship.

Program

Kyogen with Mansai Nomura: "Sanbaso"





Themed on death and resurrection, "Sanbaso" celebrates the wonders of life through refined dancing. Consisting of a performance and an interview with Mansai Nomura, this program will dig deep into the Japanese understanding of nature, life, and death.

Kabuki with Ebizo Ichikawa: "Ennen no Mai"





These "longevity dances" have been performed by one generation after the other over many centuries. How have they changed over time, and what have performers sought to express with them? Answers to these questions will be sought through the performance and an interview with the artist, providing viewers with a look into the inner world of the Japanese people.

Kyary Pamyu Pamyu: "Oto no Kuni Live: Maboroshi no Utopia" Munakata eco fes Monogatari





In addition to footage from the artist's performance at Munakata Taisha Shrine, this program features an interview with Kyary Pamyu Pamyu, who looks at how ancient understandings of nature and the divine are revealed in contemporary Japanese life.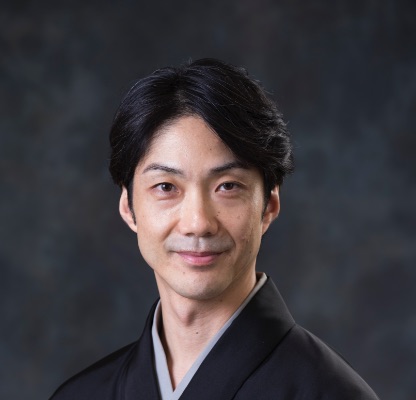 Mansai Nomura
Born in 1966. Studied under his late grandfather, Nomura Manzo VI, and his father, Nomura Mansaku, both of whom were designated as Living National Treasures of Japan. Graduated from the Department of Music at Tokyo University of the Arts.
Presides over "Kyogen Gozaru-no-za".
While performing in many productions of Kyogen and Noh theater in Japan and abroad, and contributing many efforts to proliferate those traditions, he also has expanded his activities to modern theater, film, and television dramas. His stage performances of "Atsushi – Sangetsuki, Meijinden" (The Moon Over the Mountain, and Other Stories / The Legend of a Master), "Kuninusubito" (The Usurper, based on Richard III), and "Shigosen no Matsuri" (The Meridian Rite) displayed his mastery of classic techniques adapted for the modern theater, and his broadening repertoire includes his participation in NHK's "Nihongo de Asobo" (Let's Play with Japanese). His unipue talents stretch across a wide variety of genres, allowing him to contribute significantly to a greater public awareness of Kyogen. As a modern Kyogen master, he probes and explores the existence of his craft through his broad spectrum of activities. In 1994, he traveled to Britain as part of the Program of Overseas Study for Upcoming Artists, provided by the Agency of Cultural Affairs, Government of Japan. He has won such prestigious prizes such as the New Artist Award and the Award of Excellence at the National Arts Festival (Agency for Cultural Affairs), The Minister of Education New Artist Award for Fine Arts, the Asahi Performing Arts Award, the Kinokuniya Theater Award, the Mainichi Art Koreya Senda Award, and the Grand Prix at the Yomiuri Theater Awards. He serves as the Artistic Director of the Setagaya Public Theater. He's also the Chief Executive Creative Director of the Tokyo 2020 Olympic and Paralympic Games, and will oversee the opening and closing ceremonies of both Games.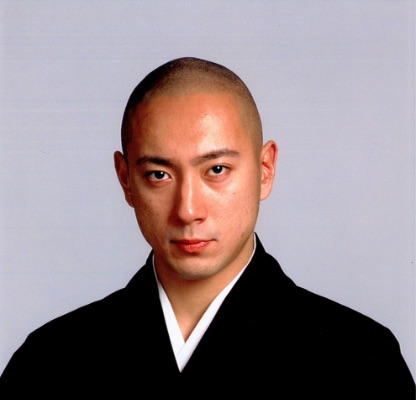 Ebizo Ichikawa
Born December 6, 1977. The eldest son of Ichikawa Danjuro XII. He appeared on stage for the first time in 1983 at the Kabukiza Theater in the role of Harumiya, in a performance of "Genji Monogatari" (The Tale of Genji). In 1985, he received the stage name "Ichikawa Shinnosuke VII" and made his full stage debut in the role of Kikanbo in a performance of "Uiro-uri", also at the Kabukiza Theater. In May of 2005, he assumed the name "Ichikawa Ebizo XI" when he played the role of Kamakura Gongoro in the play "Shibaraku", performed at the Kabukiza Theater, and for subsequent roles such as Togashi in the play "Kanjicho".
In an effort to maintain the passing on of the traditional performing arts to succeeding generations, Ichikawa self-produced projects as "Invitation to the Classics" and "ABKAI", and continues to release new work. His work is not limited to Japan, as he has been prolific overseas as well, with performances in February 2016 in the UAE, as well as an appearance in "GRAND JAPAN THEATER" at Carnegie Hall in New York City in March of that same year. His acting range extends beyond kabuki theater, having won the Best Actor award at the 37th Japan Academy Film Prize in 2014 for his starring role in "Ask This of Rikyu".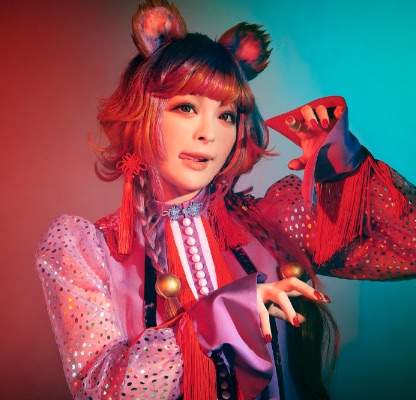 Kyary Pamyu Pamyu
Born January 29, 1993 (Tokyo) / Agency: ASOBISYSTEM
Kyary made her major debut in 2011 with the release of her mini album "Moshi Moshi Harajuku" (August 17) produced by Yasutaka Nakata. Her first full album "Pamyu Pamyu Revolution" was released in May 2012 and reached No. 1 on the Oricon Daily Chart as well as No. 1 on the iTunes charts in Japan and electro charts around the world. She subsequently embarked on her first nationwide tour, played the Nippon Budokan, and performed on the annual New Year's Eve television special Kōhaku Uta Gassen. In 2013, she successfully completed her first world tour (13 cities across 8 countries/regions) and in June of the same year released her second album "Nanda Collection" which took the No. 1 spot on the Oricon Weekly Chart. Kyary set off on her second world tour (15 cities across 11 countries/regions) in 2014 which was held to huge success. In the same year, her third album "Pika Pika Fantajin" was released simultaneously across North America, Europe, Oceania and Asia in 15 countries, and once more acquired No. 1 on the Oricon Weekly Chart. Kyary went on to perform her biggest arena tour to date, "Kyary Pamyu Pamyu No Colorful Panic Toy Box" (9 concerts), which ended on a very high note. In 2016, she dropped her first greatest hits album "KPP BEST," went on her third world tour, and carried out various projects to celebrate five years since her debut. Her fourth album "Japamyu" was released in 2018 which was promoted with a fourth world tour. Her cute appearance, freewheeling attitude and original expression continues to captivate fans. She has grabbed the attention of people around the world as a Harajuku icon, combining her musical activities with fashion.
Event 1
Art exhibition Message from the sea
Ai Futaki photo exhibition
Ai Futaki photo exhibition
Co-Exist
Nature, plants, animals, and us humans – we are all companions, living on the same planet.
The forests, mountains, rivers, and oceans are all connected, though their ties may be invisible to us.
We should strive to live as part of nature. – Ai Futaki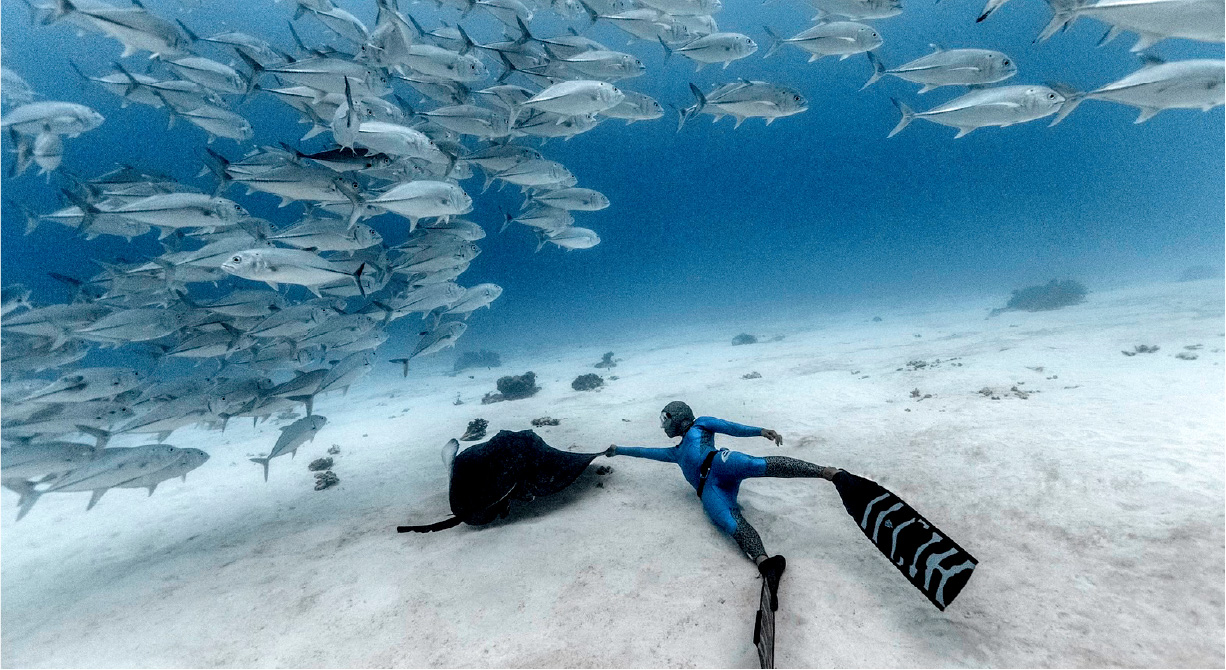 PET Bottle sophisticated Art exhibition
PET Bottle sophisticated Art exhibition
Discovering new value in plastic bottles
Reviving them as art during recycling
It's about finding the artistic in conservation
We produce a vast amount of empty plastic bottles in our daily lives.
While recycling them for resources has become established,
we still call these bottles "trash" once they're thrown away.
Transforming plastic bottles into art that touches people
may help us rethink our planet's limited resources.
No adhesives or paint has been used in any of the artworks,
which were all created by human hands, bringing the resources back to life.
That's what distinguishes "PET Bottle Sophisticated Art,"
and is the element that makes these artworks even more attractive.
– Masumi Homma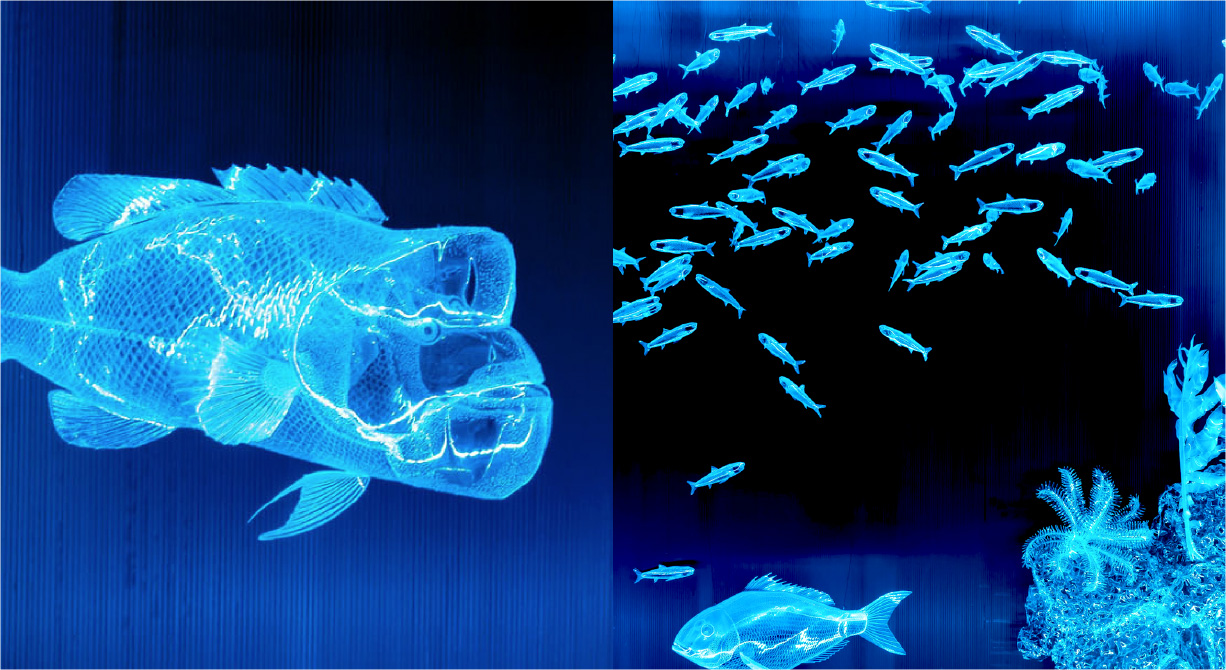 Message from the sea × Science Museum Dome Theater (Planetarium)
A short film featuring Ai Futaki's expressive footage of the sea (~3 min) played in the dome theater.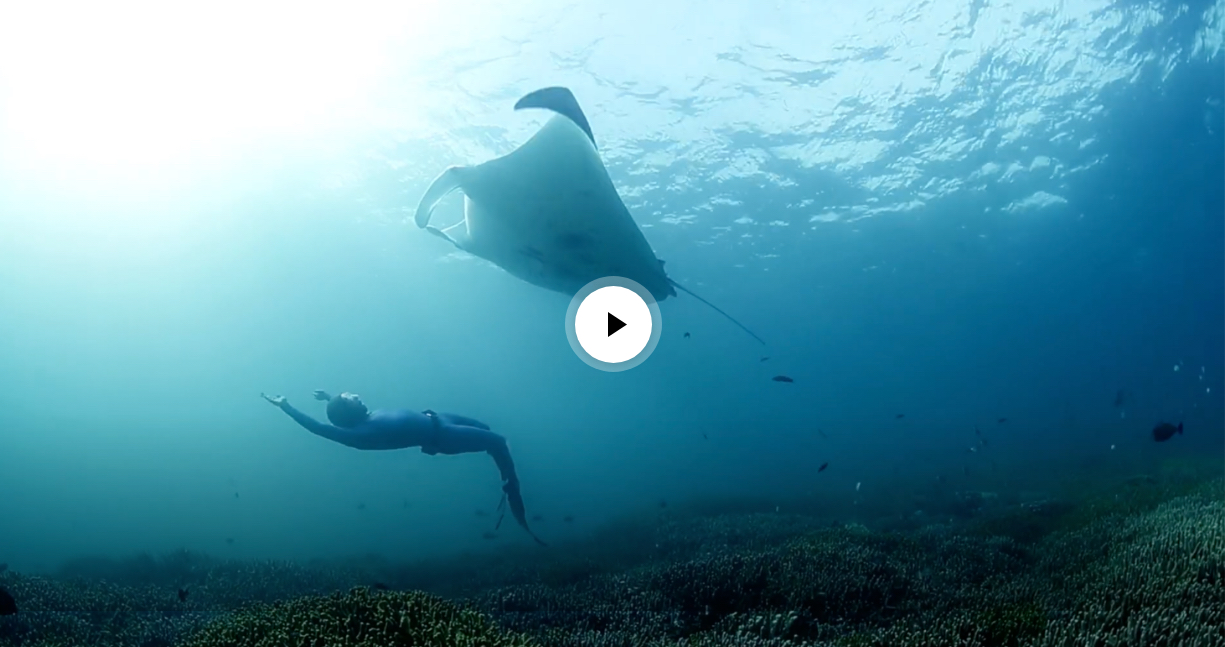 Location: Fukuoka City Science Museum Dome Theater (Planetarium) A short film featuring Ai Futaki's expressive footage of the sea (about 3 min) will be screened in the dome theater.
Ai Futaki × Daisuke Igarashi talk session
This talk will explore the issues of where us humans came from, where we are heading, and the mysteries of the sea and its memories of life. The two artists, who position humanity as part of the planet in their work, will lead the audience into an unseen world of sensibilities, a world beyond words.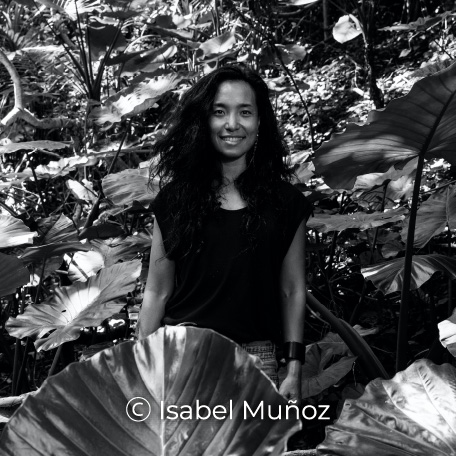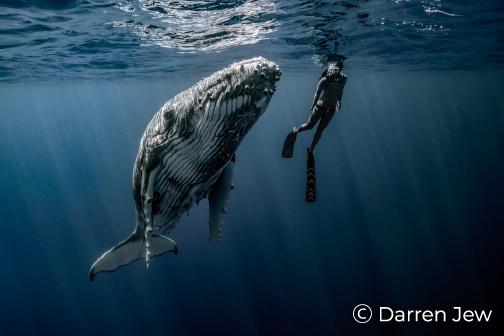 Ai Futaki
Aquatic artist, Guinness World Record holder, Ocean Ambassador for the Ministry of the Environment's "Connect and support forest-village-river-sea" initiative, mymizu Ambassador.
Aquatic artist, Guinness World Record holder, Ocean Ambassador for the Ministry of the Environment's "Connect and Having acquired her second Guinness World record for the longest cave swim in a single breath, Ai is a one-of-a-kind pioneer that connects land and sea, embodying a sense of unity with the ocean and living things. In addition to being a TEDxTokyo Speaker, she won the Gold Award at the 2012 World Media Festival for Jyonetsu-Tairiku episode: Ai Futaki. She also appears in the NHK's special program "Precious Blue," which has become a series program.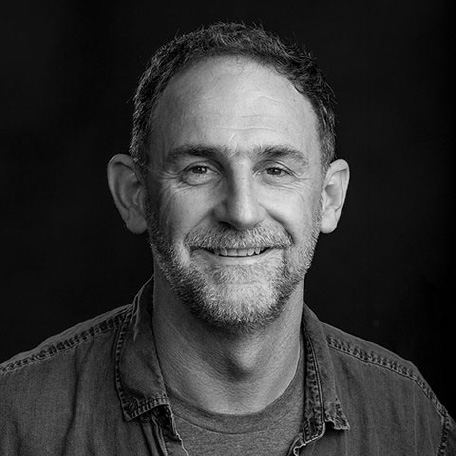 Darren Jew
Photographer and filmmaker
Australian photographer Darren Jew has spent over 40 years shooting earth's stunning scenery and photographing nature and wildlife from all around the world, from Antarctica to Zambia. In the early 1980s, shortly after completing his studies at Queensland College of Art in Australia, Jew found that his art blended well with his deep love and passion for nature, allowing him to share his unique vision with others. Since then he has published numerous books, magazines and photography collections, and also holds photography seminars and tours. Jew was named as a Canon Master in 2007, and was featured in the Netflix documentary 'Tales by Light' as one of the world's greatest photographers. Between 2007 and 2018 he was named Australian Professional Nature Photographer of the Year six times.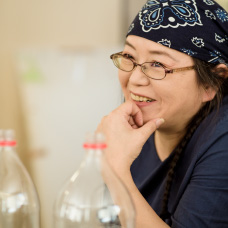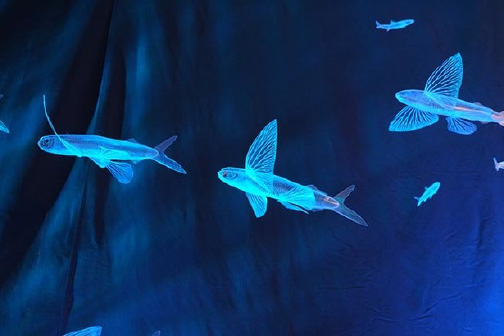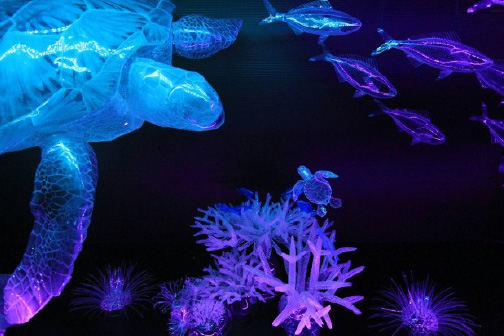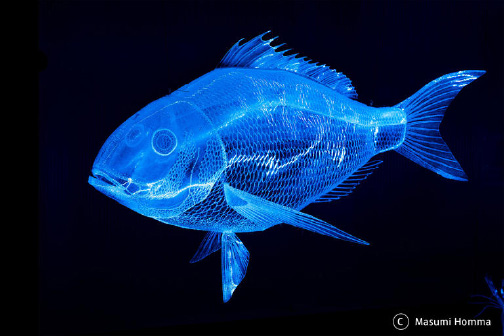 Masumi Homma
Plastic (PET) bottle artist
After acquiring undergraduate and postgraduate degrees from the Joshibi University of Art and Design, Masumi began working on "PET Bottle sophisticated Art" in 2006. While also producing smaller-scale creative works such as solo exhibitions and art in support of Tohoku region reconstruction, she has also produced many large-scale works that are exhibited at hotels, train stations, amusement facilities, and commercial buildings. In 2012, she received an Honorable Mention at the Japan Hobby Awards.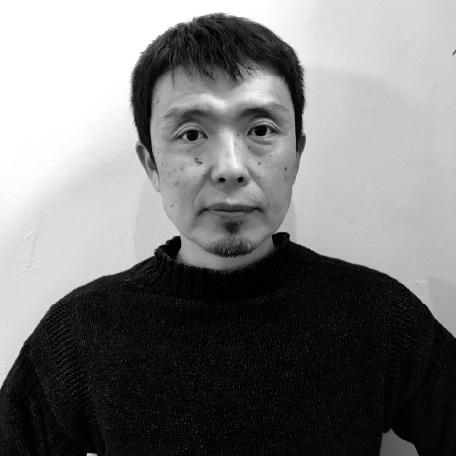 Daisuke Igarashi
Comic book artist and author of "Children of the Sea"
Born in Kumagaya, Saitama Prefecture, Daisuke currently lives in Kamakura, Kanagawa Prefecture. He has a degree in painting from Tama Art University's Department of Fine Arts. Daisuke uses skilled artistic abilities and delicate depictions to draw the natural world. In 2004, his work "Witches" received an Award of Excellence (manga category) at the Japan Media Arts Festival. In 2009, his work "Children of the Sea" received the Excellence Award at the 38th Japan Cartoonists Association Award and the Award of Excellence (manga category) at the 13th Japan Media Arts Festival.
Event 2
Special Exhibition at Munakata Taisha Shrine, Shinpokan Museum: Treasures for the Gods
Organizers:

Munakata Taisha Shrine, Munakata Global Environmental Symposium, Japan Cultural Expo

Location:

The Shinpokan Museum at Munakata Taisha Shrine
Photography by Zentaro Yamamura
The Shinpokan Museum at Munakata Taisha Shrine houses and displays some 80,000 items, among them National Treasures, offered to the gods on Okinoshima from the latter half of the fourth century to the late ninth century, when state-backed ceremonies took place on the island. Okinoshima, a UNESCO World Heritage Site, is known as the "Island of the Gods" and is off limits to visitors because it is worshiped as the abode of the divine. The treasures displayed at the museum are not only historically significant,they also represent the height of beauty and craftsmanship of their time, having been made specifically to be offered to the gods. "Treasures for the Gods" invites visitors to experience the stunning beauty and artisanal skill with which these masterpieces are imbued.